Mark Wahlberg can't help but think the United States will be OK when Donald Trump becomes president.

"Being the positive person that I am, I have to hope so," Wahlberg says. "I have to remain optimistic that the future will get better."

I chatted with Wahlberg and director Peter Berg over the weekend at the Four Seasons in Beverly Hills, where they were promoting Patriots Day, their new drama about the Boston Marathon bombings.

Wahlberg, 45, credits his Catholic faith for helping him remain positive about the future. "Peter and I have had endless conversations about this," the actor said. "I think he's always convinced I'm trying to convert him to Catholicism, which I'm not, but life is short. If we live to be 100, it's still a short amount of time. I want to live forever. I want to be with my loved ones forever and my faith allows me to deal with loss, disappointment, failure, all of those things, sickness. It reminds me that things can always be worse and how lucky I am, how blessed I am, how fortunate I am and I want to encourage people to have the ability to look at things in a positive way."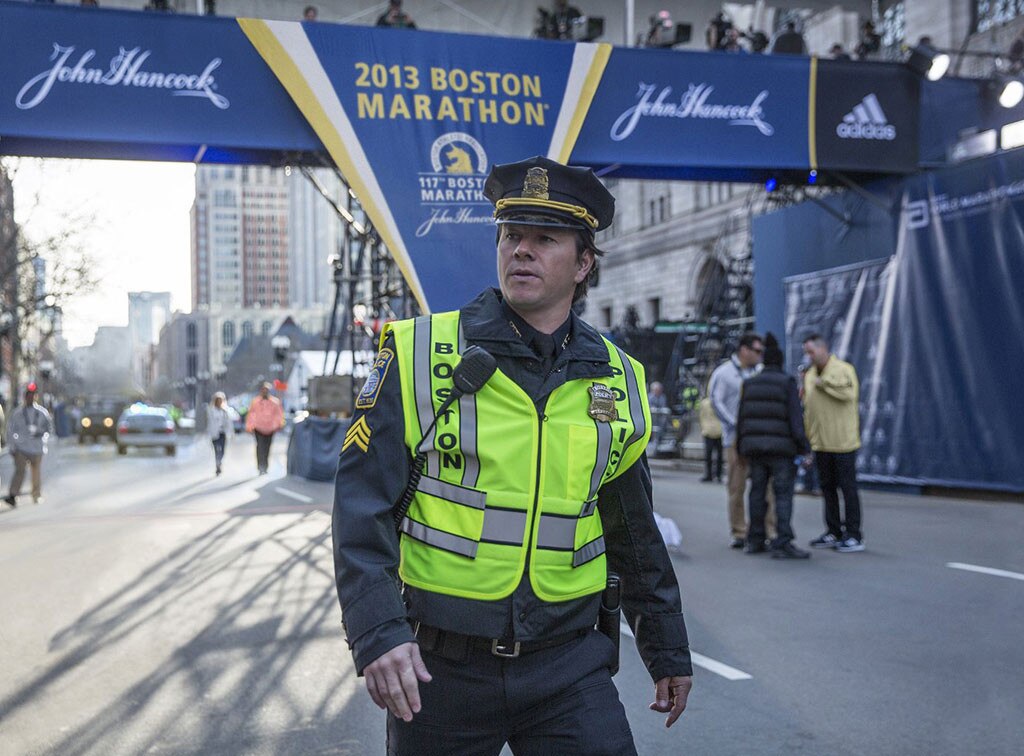 CBS Films
Even when he has to explain terrorism to his four children, Ella, 13, Michael, 10, Brendan, 8 and Grace, 6.

"My oldest kids want to see the movie," Wahlberg said. "I think the oldest two are ready for it. This is the reality of the world that we live in and I think it's important for them to understand that but I think they'll take away what I'm taking away and what everybody else who sees the movie takes away—that these things will happen, but we can't go and run and hide. We have to stand up and fight back and do that with love and I think that ultimately that will make them better and stronger as people."

In the movie, Wahlberg plays a cop (a fictionalized composite of real-life officers) who was on duty at the marathon finish line when the bombs went off. Rounding out the cast are Michelle Monaghan, Kevin Bacon, Melissa Benoist, John Goodman, Michael Beach and J.K. Simmons. Alex Wolff and newcomer Themo Melikidze play the terrorist brothers whose attack killed three people and injured more than 260.
In one scene, Wahlberg's character breaks down in his wife's arms after he comes home from the marathon.

"I went in the back and looked at some of the footage that certain people weren't even exposed to," he recalled of filming the scene. "And, you know, I just realized this happened to my neighbors and to my fellow Bostonians and that was enough."